Last weekend I attended the Writers' Police Academy in Appleton, Wisconsin.  Previously it had been held in North Carolina, but attendance has outgrown the facility there.  The new Police Academy in Appleton was perfect.  Participants stayed at the Paper Valley Hotel in downtown and were bussed across town to the facility.  Sessions went from late afternoon on Thursday through Sunday at noon.  We were busy all the time.  This was not a writers' conference.  No tips were offered about the craft of writing like other gatherings I've attended in the past.  Real police officers, coroners, forensic experts, ATF and former FBI agents were sharing what really happens at a crime scene and beyond. Enlightening! I'm hoping to attend next year, too.
Here are a few pictures of some of the events.  I went on a tour of the jail, but we were not allowed to bring in our cameras or phones.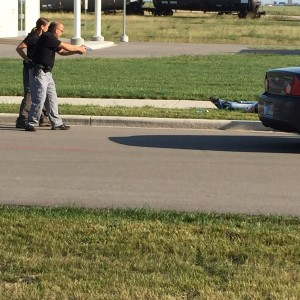 We witnessed a car chase and shooting, a well-trained police dog, and a plane where students learned about the tactics for handling an unruly passenger.  I'm not sure that you can see it, but the name above the gas pumps by the plane is Spill and Rob. All the instructors had a great sense of humor.  Fantastic weekend!